> > > > > IRP Cert by German Concrete and Construction Engineering Association
Building Protection
Repair
Special construction
COMPETENCE, DYNAMIC AND INNOVATION
Bögershausen Polska Sp. Z o.o. is made up of well qualified and widely experienced construction professionals and engineers who specialize in the diagnosis of defects in building components, general building construction and maintenance services.
We collaborate very successfully with international professionals who are technically savvy to implement a wide range of projects on time and within budget.
With many years of experience in the field and continuous education to improve on our services, you can be assured quality work that is beyond industry standards.
Building
• general Services
• all kinds of waterproofing
Preservation of Structures
• facade and balcony repairs
• sealing and gelling measures
• WHG Insulation
• corrosion protection
• resin coating
• surface Protection
Repair
• injection
• crack-bridging
• joint repair and sealing
• concrete Repair
• expansion joints profile
Special Construction
• sealing soil stabilization
• post-installed rebar connection
• sealing blocks and cavity fillings

Scope of services at a glance

Whatever the cause is, concrete repair is about preparing the building structure to adapt to the required change. The target is always an efficient solution for the safety of buildings with the highest requirements for durabilit.
• coatings according to ZTV -Ing
• WHG-Coatings
• crack injection
• cementitious injection
• PCC and SPCC measures
• shotcrete
• corrosion protection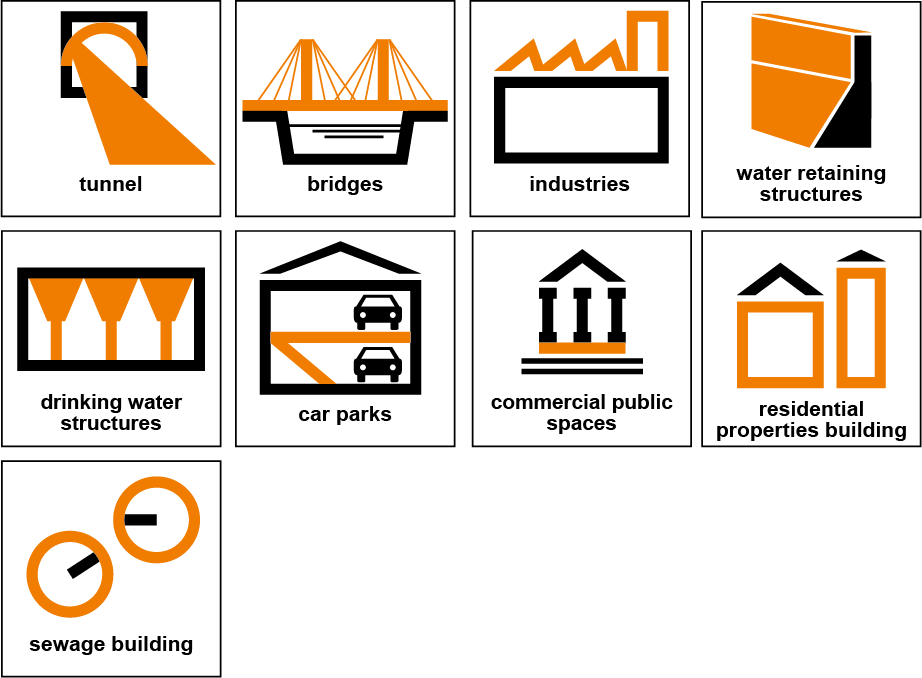 Coating systems vary differently due to the requirements posed.
B-Polska develops together with you your tailor-made solution for your needs. In addition, functionality, economy and application are taken into account to offer an optimal result for the customer.
• industrial floor systems
• anti-slip systems
• conductive systems
• water vapour permeable systems
• Coating Systems according to VOC/AgBB
• Car Park Systems
• decorative Systems
• wear-resistant systems
• chemically resistant systems
• crack-bridging systems
Properties
• long-lived
• easy maintenance
• loadable
• hygienic
• sound-absorbing
• liquid-tight
• elastic
• jointless
Optional
• anti-bacterial
• anti-slip
• anti-static
Suitable for
• high frequented areas
• wet areas
• underfloor heating

There are many ways in injection technology, so a consultation cannot be replaced by an authorized specialist. A rough overview of the many possibilities and application areas can be found in this flyer.
We provide the best advice on detailed information about the powerful injection materials and different processing techniques. B-Polska is an experienced partner in the planning and execution of all applications in the injection area.
• crack injection
• gelling/Structural Waterproofing
• foundation Engineering
• microtunneling
• concrete slab lifting
• solidifying masonry and building ground
• joint sealing
Properties
• filling
• bonding and glueing
• gelling respectively certain injection
• stabilizing

Join a progressive and dynamic company and secure your future!
We are a group of companies with an outstanding reputation in the construction industry, seeking to expand our valuable pool of employees.
Given the dynamic development of our companies in Europe and beyond, we are looking for subcontractors (individuals and multi-person companies) who wish to join a stable and secure company with an established market position.
Interested persons should CONTACT US for further details.
• Bricklayers
• Persons/ Companies experienced in renovation and repair of buildings
• Persons/ Companies skilled in concrete repair
• Persons/Companies skilled in coating systems
address
Bögershausen Sp. Z o.o.
ul. Bohaterów Westerplatte 16
65-034 Zielona Góra
KRS-Nr: 0000757100
NIP: 5213845729
Regon: 381780043